With summer approaching, now is a good time to compile a list of the top vacation destinations for the Summer of 2017. This list is unlike any other, however.  Rather than finding you the hip and trendy places being promoted by tourism bureaus, our destinations give you bang for your buck.  We ranked these destinations by how much cheaper they are this year, compared to last year, based on the US dollar exchange rate.
The US dollar has been getting stronger over the past few years.  This is a great thing for American travelers going abroad. Other currencies have been struggling, like the British pound, after the Brexit issue.  This creates opportunities for Americans because when we exchange our dollars, we get more of the local currency in return.  This leads to a cheaper vacation.
Here are the top destinations: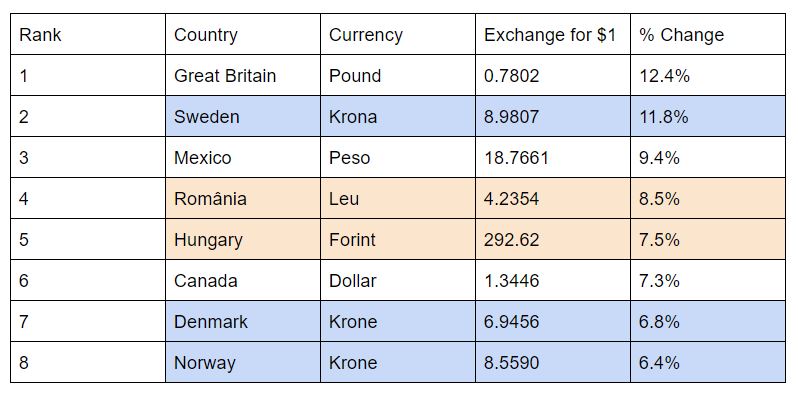 These rankings tell us a trip to Britain, Scandinavia or Eastern Europe would be the best value this summer. Alternatively, both Canada and Mexico offer good alternatives if you want to stay closer to home.
Those of you who want to go to Europe (all Euro currency countries) will be happy to know that Europe is 5.9% cheaper than last year.  It would be a good value to go to Europe and combine those countries with Scandinavia or Eastern Europe.
Safe travels to all of you this summer.
Submit comments or questions on Twitter @iammrmarshall.
[mc4wp_form id="214″]
Top 8 Summer Destinations 2017 by Foreign Exchange Rate