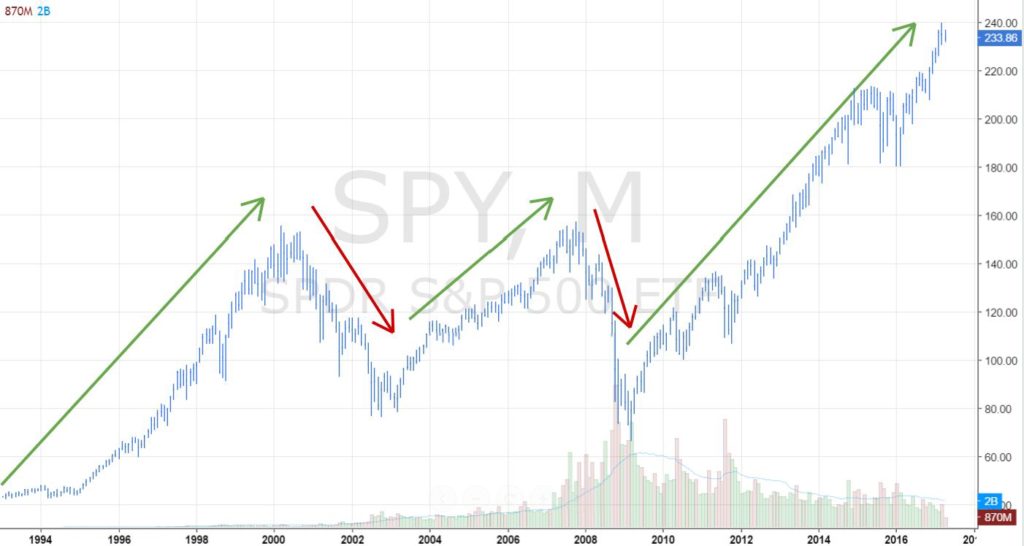 Andrew Marshall Financial, LLC (AMF) offers an investment management system designed to achieve better returns for our clients by avoiding downtrends and minimizing volatility. Our proprietary methods have improved on the standard practices of passive investing and rebalancing.
We are not index investors. We do not buy and hold.
To achieve results that are better than the market average, outperformance can be obtained by maximizing the upside, or minimizing the downside. Traditional active management tries to outperform to the upside by scouring the stock universe for the next Apple or Amazon. AMF however, produces improved results by avoiding the market's downtrends. The secret to a larger investment account is not to find the next Apple or Amazon, but to avoid large drawdowns.
Description
In AMF's Tactical Trend Following strategy, account principal is allocated only into asset classes with prices currently in an uptrend. Asset classes are owned using low cost ETFs. Ownership of these ETFs are monitored and adjusted through a systematic set of buy and sell rules.
Depending upon the size of the portfolio, assets may include oil, gold, base metals, grains and agricultures, real estate, corporate bonds, muni bonds, preferred stocks and international exposures. This diverse selection of investments allows for many opportunities to grow the portfolio.
Benefits
Accounts managed with AMF's system have several important features investors like.
Faster growth over long time periods.
Less volatility.
Smaller drawdowns.
Who is it for?
All investors in this system must meet several criteria:
California resident or US Expat.
Have an IRA or
Income of less than $191,650 (single) or $233,350 (MFJ) per year for maximum monetary benefit or
No income limits for lower variation and smaller drawdown benefits.
Minimum $50,000 investment.
What are the performance results?
Our results are verified by Theta Research, an independent, third party performance tracking service.  AMF cannot advertise results here, but you can receive a report directly from Theta Research. Click here to request results.
For more information, AMF has a short pdf describing our Tactical Trend Following system in more detail.  To receive a free copy please enter your email here: